Neptune is a 60-foot monohull yacht built in 1977 to take part in the second Whitbread crewed race around the world. Classified as a Heritage Ship five years ago, Neptune has sailed the world's oceans for almost 45 years. In February 2022, the 18.60-meter-long yacht was scheduled for a complete overhaul to enable her to take part in the Ocean Globe Race in 2023. A challenging project, as described by the crew during their stopover in the port of Concarneau.
"Qui ose vivra", a rallying call for the crew, a message of hope for everyone
Neptune is not just a racing yacht, but a crew and a slogan: "Qui ose vivra" ("Whoever dares will live"). Behind this message, the objective is clear: thanks to sport, you can achieve great things whatever your age, profile, or health. Bertrand Delhom, crew member and driving force behind the project, is aware of this: "I've had a very complicated health trajectory and in May 2021 I was diagnosed with Parkinson's disease. I didn't want to sit back and put up with this neurodegenerative disease. I chose to move forward, to fight and to challenge myself through sport."
His challenge quickly took shape, as Bertrand, a keen sailor, joined the crew of Tanneguy Raffray, skipper of the Neptune, to take part in the next Ocean Globe Race in September 2023.
"For a background, in 1984 I asked Éric Tabarly to be one of the crew on the Whitbread, but I wasn't selected. Today, I'm proud to be able to take part in the 2023 Ocean Globe Race, a vintage crewed regatta in the spirit of the original 1973 Whitbread, 50 years on. It's a wink that makes me very happy," says Bertrand.
From that very moment onwards, Tanneguy Raffray's crew will be writing a new page in the history of this yacht, working together to raise public awareness of Parkinson's disease. Through this race, the crew hope to spread a message of hope to the 7 million people suffering from the disease and their families. "Physical activity helps to limit the acceleration and progression of the symptoms of the disease. Sport is good for your health, but it's also good for your mental state. Sport is a way to escape, to surpass yourself and to keep dreaming. I want to show that, despite the disease, everything is possible and you must never give up. Sailing enables me to fight my illness every day and to continue to make my dreams come true," adds Bertrand.
"Bertrand is a full member of the crew, he carries out the maneuvers, keeps his watches like the others and takes part in life on board. There's no difference," explains Stéphane Gras, co-skipper.
The mixed, multigenerational crew has the same message of hope heard loud and clear. Bertrand concludes: "We're not just a crew, we're the Neptune family" … like a battle cry: "Whoever dares will live".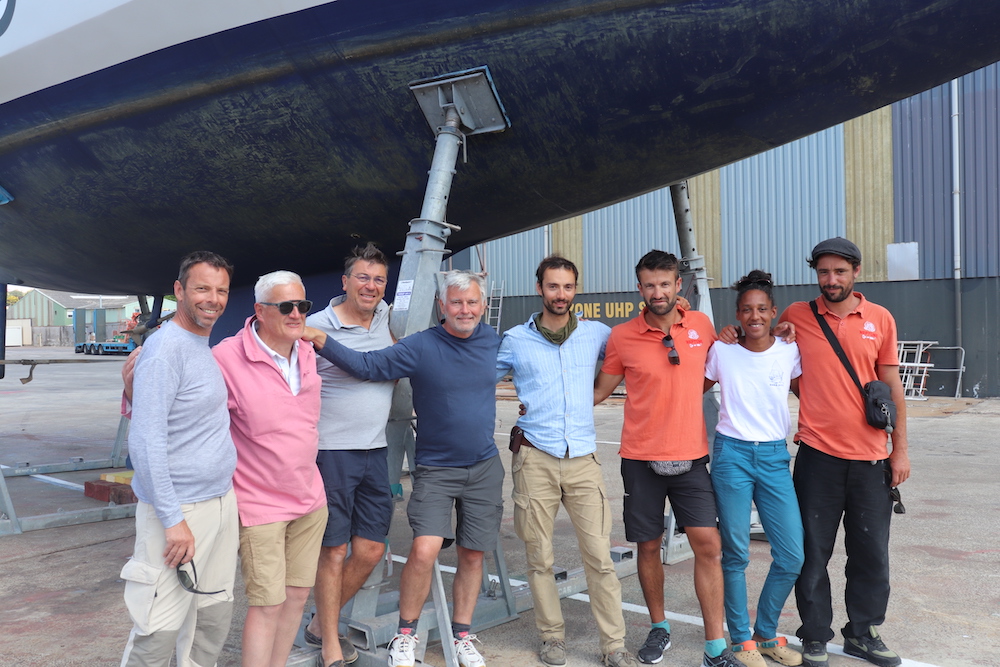 Last-minute stopover in Concarneau
Neptune was dry-docked for a week in the ship repair area in the Port of Concarneau to carry out several repairs. "This last-minute stopover wasn't in our schedule, but it was necessary and essential for the yacht's running. The Port of Concarneau staff were very responsive and available to ensure that the yacht was properly hauled out to dry" adds Stéphane Gras, co-skipper.
As from July, the crew will be continuing to prepare the yacht and training at sea so that they can be at their best at its start in the Ocean Globe Race in Southampton in September.
To find out more about the project: https://neptune-morbihan.fr